We have a family friend whom I'll call Joe*. Joe is one of my favorite people, but he has a gift for marrying women who are just a little—how to put this politely—high maintenance. We won't go into his previous wife here, but he and his current wife (who I like a lot) have never been to a dinner party at our house. Why? Because "Diane* doesn't eat at people's houses."

Maybe because she herself doesn't cook and fears that she can't reciprocate? Joe says it's because "if she's going to pay a sitter, she'd rather go out." Not like they're impoverished.

Um. Ok. Her loss.

What could be nicer than enjoying dinner and wine with friends in the comfort of someone's home? Most of the time, I'd rather cook and eat at home than be disappointed after dropping $100 or more on dinner (before wine, tax and tip).

So this past weekend, when friends proposed getting together for dinner, I offered to cook dinner for them here. They all offered to bring appetizers, and dessert and, of course, wine.

And it turned out to be a beautiful evening, even though cold and rain were predicted.

Since all of us like eating healthier food, I decided on a menu that would be fresh and light and relatively healthy, with a little "South of the Equator" theme to welcome the warmer weather that's finally arrived.

We started with appetizers and cocktails. Ok, so my appetizer was fried. Not so healthy…but…yummmmm.



Fried plantains waiting for their second dip in hot oil.


These are SO easy; slice them about ¾ inch thick, fry at 350 until brown. Remove and drain on paper towels, then whack with a mallet or skillet to flatten them, and return to the hot oil right before serving. I seasoned these with curry powder and kosher salt, and made a sauce out of lowfat Greek yogurt sweetened with honey and flavored with lime juice and lime zest. It was a great balance for the curry powder.


After the second frying, seasoned and ready to eat. Betcha can't eat just one.


Our friends Michael and Elaine brought a platter of marinated, grilled tenderloin, with home-made guacamole, home-made BBQ sauce and lovely bread. Michael is the chef in their household (and he's an amazing cook) and also sells prime meat and seafood to restaurants. (Everyone should have a friend in the meat business!)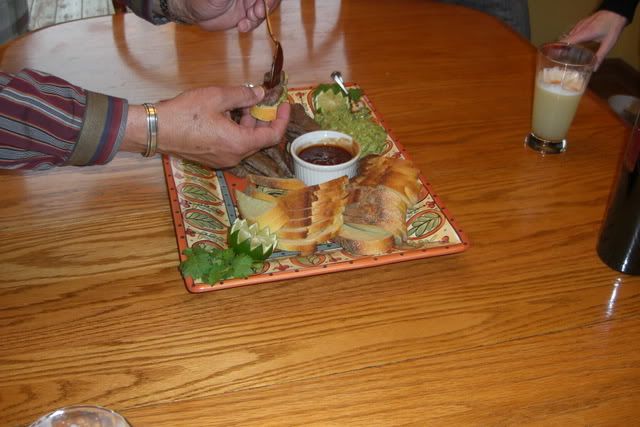 We drank "Pisco Sours" made with a Chilean brandy called "Pisco", lemon and lime juice, simple syrup, egg whites (to make them foamy) with a drop or two of bitters on top. They were great with the appetizers.
Cherie and Gerry (the world's cutest couple) enjoying appetizers and Pisco sours.





Elaine and me. I love my new apron. I bought it in Chicago last month with Elizabeth and Pat. It says, "Nice nose, good legs, great body." You know I had to buy it!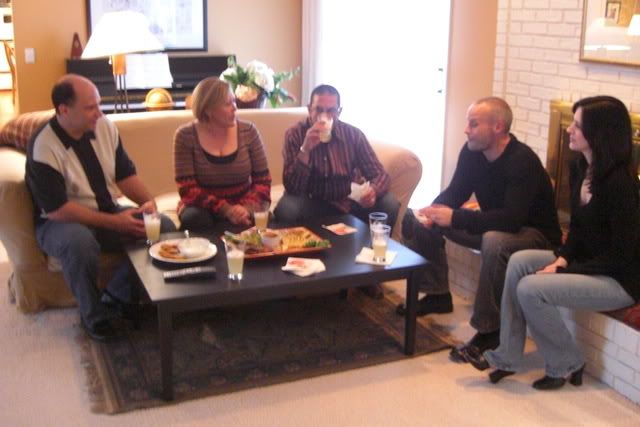 Craig, Elaine, Michael, Cherie and Gerry enjoying appetizers and Pisco sours in the living room.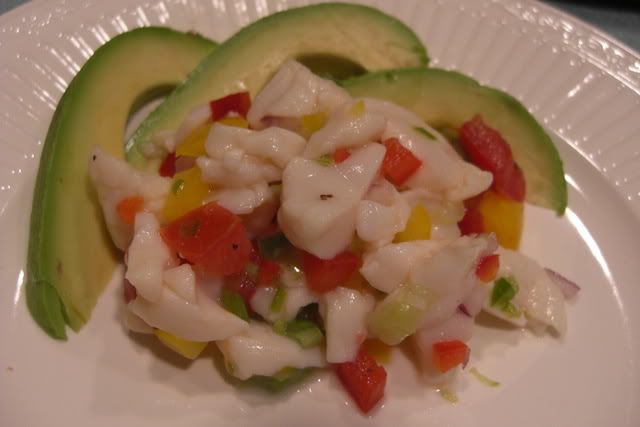 Our first course; scallop ceviche with avocado. Ceviche is so easy; just super-fresh raw seafood, "cooked" in lime juice, with peppers and onions and scallions. So cool, fresh and delicious!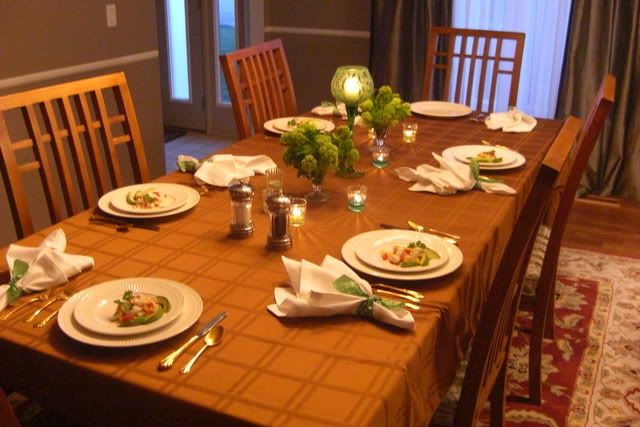 Our first course is served.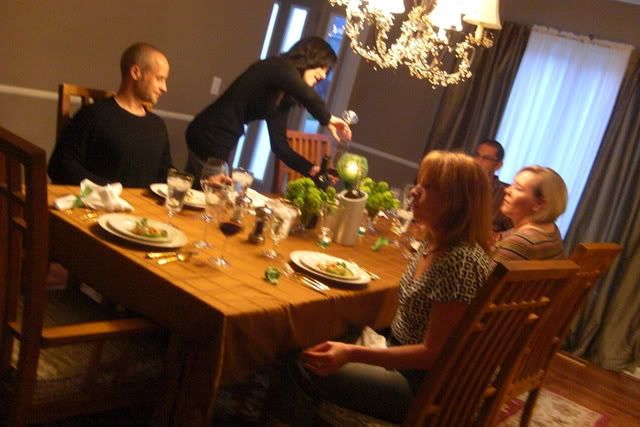 The white wine with dinner was a Torrontes from Argentina. Torrontes has wonderful fruit on the tongue and floral aromas on the nose. We had so many sweet and spicy flavors with this meal, it was really a good choice. Cherie brought a couple interesting zins which were also delicious with the meal.
Next up; jicama and orange salad on baby greens, dressed with citrus juice, vinegar and chive oil (made with chives from my garden). Somehow I forgot to photograph the salad!

Our main course was Jerk shrimp with home-made Jerk sauce and mango/papaya salsa. I've never made Jerk from scratch and have always opted, instead, for the jarred version. This was SO easy, but it's not cheap to make. It took a full quarter cup of ground allspice. But it was really delicious. I only used half a habanero; I think I should have used the whole thing. It was flavorful but not spicy enough for me.


The ingredients for Jerk sauce.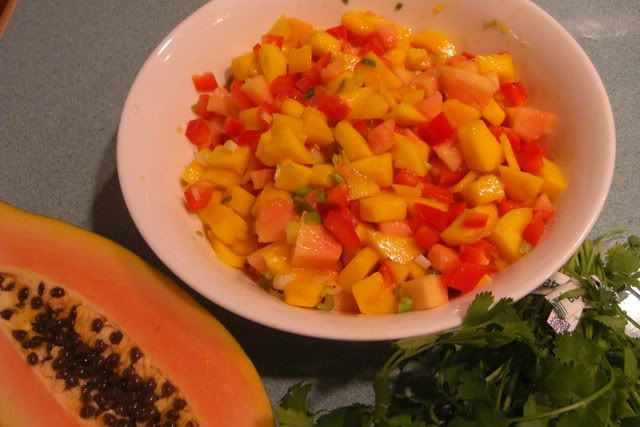 The salsa, before adding the cilantro. I like to add cilantro at the last minute, right before serving.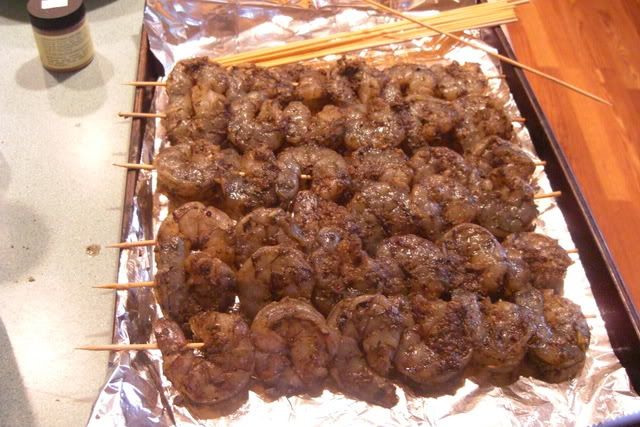 Skewered shrimp, already marinated in Jerk seasoning, ready for the grill.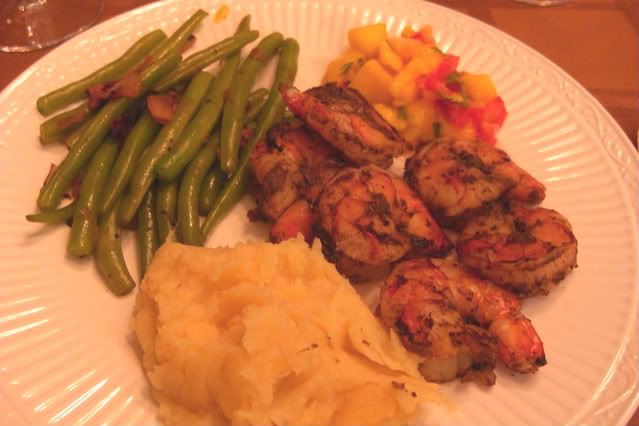 Jerk shrimp, mashed white yams with coconut milk, green beans with bacon and caramelized onions.

After dinner we headed to the living room for a few rounds of "Apples to Apples". Love this game.


And then…dessert. Cherie made a stellar key lime pie; tart and sweet and so creamy. A perfect ending for this meal and my husband's favorite dessert. She used the recipe from Joe's Stone Crab and it was outstanding. Sadly, after too much wine, I forgot to take a photo. It was gorgeous!


Too bad Joe and Diane missed out.
* Not, obviously, their real names.